Apr 24, 2015
826
3,267
307
It happens with all babies...
They grow up!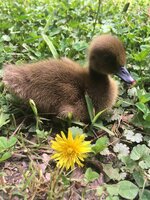 (JoJo, a baby Khaki Campbell we raised a few years ago. Rest in peace dear)
​
Empty nest isn't just for growing/grown children- it applies to our baby animals too. Time passes so quickly, and one minute we'e snuggling with them and the next our chickens and puppies and horses are running around and grown up!

How to soothe the empty nest (empty stall, empty brooder, etc) you ask? Well, that's what this little thread is all about. It's the place to post baby animal photos and reminisce about your critters in their littlest days. Talk about how cuddly they are, and how much they've grown! Show us their transition from baby to adult even. All in all, this is basically a place to see cute baby animals and brag about your own (even though they may now be grown)!

Last edited: