Hello all!
My EE are 7 weeks old. They look big to me, maybe it's just me? I'd like to see photos of your EE's too! Any age, any sex, just wanna see the range of differences out there. Also, the first pic are the two in question regarding their sex. They seem to fight (play?) With each other alot. More fiesty, I suppose. The other pics are just me trying to photos of them all, lol, it's difficult!
Supposed to be pullets?
Sideview of one on left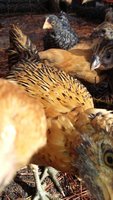 Feathers of right one
Comb of right bird
Just cute pic of right bird (unnamed)
Penny
S.J. Hawkeye(blurry), and a guinea
I'll try to add more pics of the others later, surely my service wouldn't fail during an upload, lol!
Thanks everyone, look forward to hearing your opinions, and seeing pics of your Easter eggers!
- Jess