Cj's Mandarin Ducks
11 Years
Mar 11, 2008
1,586
39
216
UNDER NEW RULES THIS IS A BUY IT NOW AUCTION. SO PLEASE HIT THE "BUY IT NOW" AND PM ME THE DATE YOU WANT. I I WILL POST IT HERE SO YOU KNOW WHAT DAYS HAVE BEEN TAKEN AND YOU KNOW WHEN YOUR DATE IS UP. THANKS CJ
PLEASE IF YOU HAVE SHOWED AND DONE WELL WITH SILKIES YOU HAVE HATCHED OR BOUGHT FROM ME, PLEASE SHARE WITH ME SO THAT I MAY PUT YOU IN MY "WINNER'S CIRCLE" ON MY SITE. NO NAMES ARE USED ACCEPT FARM/FLOCK UNLESS YOU WANT IT LISTED. WOULD GREATLY APPRECIATE IT. Cj


Fall Silkie Weekend Special (also have included one midweek date that I can do a special). I will be offer 2 dozen eggs to each person.. so I can do three customers per date.

This special will include 2 dozen eggs that are laid in a weekend or (Mon. & Tue. for midweek shipping). When the silkies kick in to full gear laying maybe able to include more people on the weekend special.

Silkie pens we have:

B/B/S (you will get blue, black, splash and lavenders from this pen), Partridge, Silver Partridge, Splash only pen, White, Buff, and Black Lavender Split, Calico, Lavender/Porcelain pen, Splash/paints and possibly a Lavender pen.

As with silkies all may not be laying when your date has come up. So you will receive at least 2 doz. eggs from those that are laying.
This special is for assorted eggs not for one color only. Since there may be more than one person sharing the weekend it is not fair that they not get a color because the other person wants them all. I will do my best to accommodate people but I can not guarantee just one or two colors to one person.

THIS PRICE DOES INCLUDE SHIPPING.

I will post all names as they come in here so you know when your date comes up.
Now the reason I do a presale is that I sell many eggs privately and via other auctions. I want to give
BYC members the first chance and work the other orders in. So please get your date.

I will put cold pack(s) in to keep eggies air conditioned on their trip for an additional $5.00 (this does add 1.8 #'s more to the shipping). Or a heat pack when the weather gets cold for $5.00 also.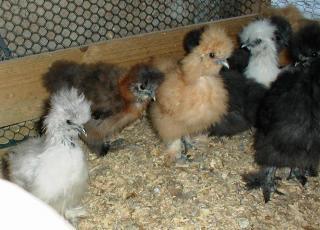 More pics at www.cjsilkies.com

AUGUST

8/24 -
8/29 -
8/29 -
8/29 -
8/31

SEPTEMBER

9/6 -
9/6 -
9/6 -
9/7 -
9/12 - marquisella*
9/12 -
9/12 -
9/14 -
9/19 - bobbieschicks*
9/19 -
9/19 -
9/21 -
9/26 -
9/26 -
9/26 -
9/28 -

OCTOBER

10/3 -team edward*
10/3 -
10/3 -
10/5 -
10/10 -
10/10 -
10/10 -
10/12 -
10/17 -
10/17 -
10/17 -
10/19 -
10/24 -
10/24 -
10/24 -
10/26 -
10/31 -
10/31 -
10/31 -


**Also if there is some time where hens go broody.. your eggs will be postponed but you will get your eggs. You know how silkies are.

If you are interested in this. please click the "buy it now" and PayPal

[email protected]

Also include the date you want and your phone number if you want to pick up your eggs at the post office.

All birds are bearded.

To see my silkies of all colors visit the newly revamped website.. that has pictures added frequently: www.cjsilkies.com
Thank you for looking and bidding. Cj
Click on the link and see other BYC members silkies either hatched from my eggs or silkies that were bought. .

http://www.kizoa.com/slideshow/d1796046kP148928148o2/customers-silkies
Quote:
Quote: