A couple of months ago, I hatched Black Sex link chicks from my Golden Spangled Appenzeller Spitzhauben rooster x Dominique hen. It's my understanding they were black as chicks because then hen was Extended Black (E), which is dominant over the rooster's Birchen (ER).
In a few days, I'll *hopefully* be hatching more sex-linked chicks, using the same Spitz roosters but with hens that are Duckwing (e+). One hen is Cream Legbar and the other is an Olive Egger (Legbar x Welsummer cross).
Any guesses what the chick down will look like?
I've seen lots of documentation on Black Sex Links, but haven't found much on sex linked chicks, produced with a barred female that isn't black under her barring.
Here are the potential daddy-roos
And the hens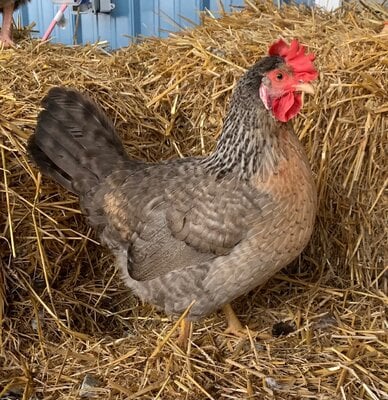 Their eggs are easy to differentiate (blue vs. olive) but I'm not sure if I'll be able to keep track of which chick hatches from which, unless there is some sort of differentiation in the down color (which seems unlikely). Here's what the parents looked like as chicks. I'm sure about the Spitz, since they looked so different from the others. I had a hard time keeping the Legbar, Olive Egger and Welsummer females straight. Here's my best guess...
As I impatiently wait for hatch day December 1, I'm trying to imagine what they're going to look like. One wild card is that I originally paired the Legbar hen with a Legbar roo, but she kept escaping the breeding pen so I decided to leave her out with the Spitz roos instead. I waited a few days (almost a week) to start collecting from her and know she got some action with the Spitz boys in that time, but there's a small chance this fella could be one of her (2) egg's baby daddy. The olive egger is much more certain (although not 100%) to have a Spitz daddy for all of her eggs (4). She had almost 2 weeks of exclusivity with Spitz roos.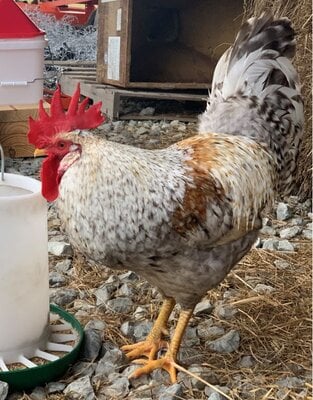 I also have 4 olive eggs from another Olive Egger in the same incubator, who was with the Legbar the whole time. I'm wondering whether they will inherit any auto-sexing. I don't know the chances I can keep the newly hatched chicks straight long enough to mark which egg they came from, but I couldn't choose just one genetics experiment
Tagging
@NatJ
@MysteryChicken
@RoostersAreAwesome
and
@Amer
for your thoughts--- I've seen you all provide lots of good genetics advice on other posts