Remember OX? I came home the other night, and the light in the big brooder was out. This is what I saw when I peeked in there.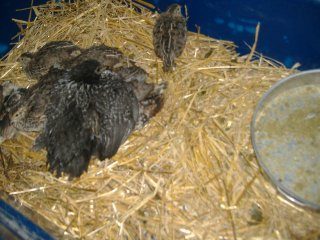 I figured they were chilled, so I grabbed my camera, and snapped these pics. From what I can tell, she, (I hope she's a she) has 4 banties, and 2 quail under her.
My MIL said that maybe because she's bigger than the rest of them, she thinks she's the mama. (She's a standard, the only EE that hatched out of all the standard eggs. ) It was the cutest thing!!
I really hope she's a girl...