I have a small flock of chickens (14 hens) that range in size: Silkies, Polish, Amberlinks, White Plymouth Rock. A couple months back I saw some poop with Tapeworm segments in it. I had treated entire flock with Equimax (.032 ml/lb.) twice - 10 days apart. Unfortunately, the first dose I did not know to fast the birds for 24 hours prior; but the second dose I did fast them 24 hours prior. Well, I just noticed a couple more poops with Tapeworm segments in them. I'm not sure if it is just one specific bird, or if all of them are infected. I know that Praziquantel is the main medication that gets rid of tapeworms. My question is whether I can just purchase the powder form of Praziquantel and just medicate each bird based on their weight. We used to use Praziquantel when treating our koi for worms and flukes, so I know that I can obtain the medication in pure Praziquantel powder form. If I medicate them this way, does anyone have any recommendation on the dosage of powder?
These birds have not been free-ranging since the first episode. I've had them confined to their coop and run area. However, they do dig down and find bugs in the dirt. The coop and run area are mainly sand and dirt mixed in. Should I do something different to try to keep the worms/bugs out? To make matters worse, we just got a lot of rain, and the floor area of the coop and run area are pretty damp. I'm at a complete loss as to get this under control. Thank you for any help/recommendations!!
Here are pictures of our coop.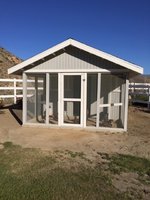 Last edited: