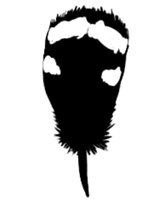 The feathers sorta look like this and they are only on it's chest. Its mother is a blue mottled belgian d'uccle, and its father is a black silkie. There are also 4 others out of the same mother/father who dont have anything like this.
Besides that the father has also been crossed to another black mottled belgian d'uccle and out of 17 of them none have anything more that one or two mottled feathers.
Has anyone else seen this or is it likely a mutation? Im assuming its a mutation of the mottling gene so Im going to keep it in the flock and see if it will pass the variation to its own chick.
Solid black everywhere else:
The mother:
The father:
Last edited: