Help, I am not sure the predator that did this....anyone know how a rabbit could have its innards pulled out and laid out on a stone? dog?
I got new netting for my compost pile, just uncovered yesterday, at dusk, I added my normal tablescraps, watered it and then went in for the night, found this the next morning: (my compost pile is surrounded by stones) right on top of the stone...innards.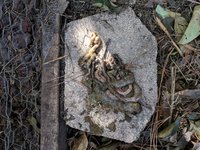 it isn't my chickens, since a rabbit carcas was a couple feet away, but could have been my chickens!! Going to put the netting back up today! Worried now since I don't have a camera out there....