i had ordered what I thought were Rhode Island Reds, for larger eggs. Did my normal chick incubation, lockdown, etc. they didn't hatch and I then got busy with work (on-call, mandatory OT) and my wife's IVH (trying to hatch our own eggs).
This morning I hear peeps from the basement, and imagine my surprise when I see the funniest looking chicks I've seen....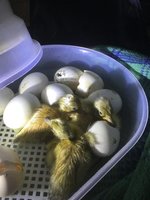 So yeah. Guess it's time to learn about ducklings.