I'm curious if anybody here has encountered this strange yet wonderful (at least I think it strange) phenomenon I've been observing for the past few months on my farm.
Quick background...I am the sole caretaker of 50+ chickens on my sister's 50 acre NJ farm since May of 2020. I live in a cabin within sight/sound distance of the spacious chicken run/coop and spend a good amount of time with the girls (and 3 boys).
The farm is surrounded by a large swath of protected swamp/forest land which means there are PLENTY of predators, but I would say fox, racoon, and hawk being the main dangers for the girls.
Last year starting around May/June I had a huge hawk problem. On average, a serious hawk alarm would be raised a minimum of 3 times a week, from May till at least November. The only deterrent we use is fishing line criss crossed throughout the run, which does work, but it never stopped the hawk from trying. A hawk tried to snatch a hen while I was feeding them once, actually attempted to fly between the fishing line literally feet away from me! And if a hen left the safety of the run...BAM, she got got.
I saved one hen last year that wondered out and got snatched but must have been dropped. All of the skin on her neck was torn off...her name is now Vulture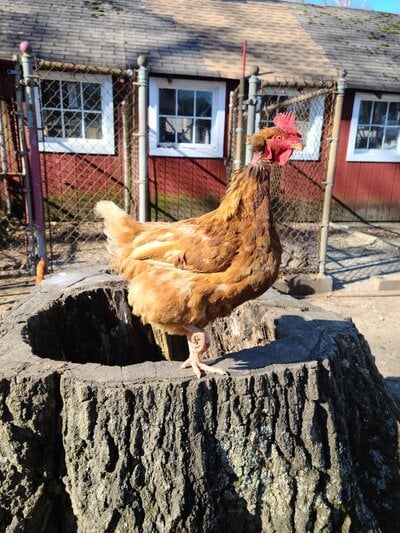 This year though...I have had 0, yes ZERO hawk issues. And yes, the fishing wire works, but I have at least 5 hens jumping the fence wondering all over the property with no protection at all. If this went on at this time last year, I have no doubt they would be gone.
So what changed?
Well, around April (2021) I saw a giant red tail hawk starting to approach the chicken area...the roosters started freaking out and I started running towards where I though he was orienting on, all the while screaming obscenities at the top of my lungs. (I like to scream horrible things at the feared birds, like 'Your mom didn't love you' or 'Your feathers lack luster and you smell bad' etc..)
Ah, but let me back up briefly...before approaching, the hawk was sitting in a tree across the river, watching...I remember noticing how loud all the wild birds were chattering, thinking they obviously saw him also.
So hawk launched off the tree branch, is approaching quickly and is obviously focused on the hens...when all of a sudden, all kinds wild birds start attacking the huge hawk mid air! Air bombing him, pecking at his wings, head, and body, zig zagging in front of his flight path. And it wasn't just one kind...all different species were working in tandem to chase him away.
L I noticed many swallows, but there were all kinds of birds from tiny to medium sized birds attacking this HUGE hawk, easily 40-50 times the size of some. There were at least 10 birds on him, with plenty of backups not too far behind.
I've never seen anything like it, and it really did seem to me like they were communicating amongst each other, warning each other of his(or her) approach.
Now, I know this wasn't for the benefit of my chickens, it was baby bird season...I thought surely that must be it.
But I have seen this happen many many times since that day. I haven't had one freaking hawk all summer...sometimes I'll see the birds dive bombing hawks high in the air, where all you see are little fly sized specks surrounding the majestic coasting birds. I do not know what kind of birds they are...they're too far away and too quick.
But, if a vulture flies by...nothing, no dive bombing birds in sight.
Sometimes they coordinate attacks closer to the ground, where they will actually flush the hawk out of it's tree perch and chase it out. This is the most fascinating to me as it is very clearly several bird species somehow coordinating..and what, planning? Like what?!
I now know this is called 'mobbing' and is done for several reasons...nests, breeding territory, etc...but I think in a way the birds ARE protecting my chickens. The run is a food source, there are always tiny birds hopping around picking up after the hens.
I just think this is SO fascinating. I didn't think much of birds before I got chickens, I mean, I thought they were beautiful and fascinating, but didn't wonder at their intelligence much. Now, I know they are much smarter then people think, it's just an intelligence that is hard for most humans to comprehend unless you've seen it firsthand.
I'm not sure what changed this year though...why weren't the birds protecting the territory last year?
Nothing is different this year.
I guess some things must remain a mystery, but I am SO thankful for those tiny protectors. Nowadays, if I hear my Drama Brahma rooster screaming, I no longer run to the chickens as if my pants were on fire...it's always a fallen branch or some plastic tarp flapping in the wind that makes him upset. As a matter fact, I haven't heard that coordinated unmistakable 'danger is near' call all summer.
I've tried to convey how cool this is to several friends (non chicken keepers) and it's either met with a non reaction or just disbelief..one friend even said I'm anthropomorphizing the wild birds (attributing human characteristics/intentions to them).
I hope to one day to capture this happening on my phone, but that is no easy task because it happens so fast..and usually too far to film well.
So, what do you all think? Has anybody witnessed something like this?
Does anybody have a theory of why it's been happening so regularly this year and not even once last year (and I know it didn't happen at all last year as I spent every waking minute with the chickens due to the quarantine).
But whatever the reason, I'm sure grateful to those smoll raptor friends...I make sure to leave some water out for them during hot days and will definitely be feeding them over winter again this year.