Release the Ferrets!!
Premium member
12 Years
Jan 18, 2008
36,711
100,186
1,646
This little chick has me confused.
When it was little I thought for sure it was a cockerel because it and a couple other chicks grew incredibly fast and nearly doubled in size quite rapidly, looked
massive
compared to the other chicks, and it had a very wide comb and thick legs, and I thought for sure it was a boy.
I had my eyes on this one and a few others from day one.
Well, now 3 of the others are confirmed males, as I suspected all along, and this little one still has me stumped...
When it started feathering in more, the feathers came in in what I thought was a female specific pattern??? A couple of my EE hens look extremely similar.
But it has 3 rows of peas which I thought was male specific? Although I have recently heard it is not?
It also has red coming in on its wings and back and a very rusty chest.
But seems to have rounded neck feathers.
So now he (or she) has me very,
very
confused.
I guess I will just have to wait and see???
This chick turned 6 weeks old on Friday which I know is still very young but the other males are extremely obvious and have been for weeks so I was hoping this one would be too. I hatched them myself. This one is the only EE.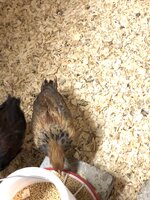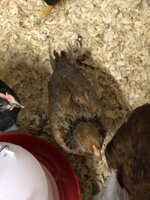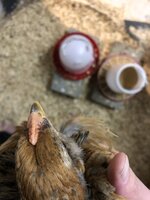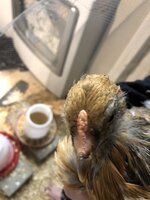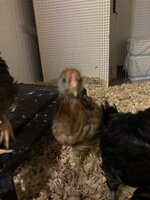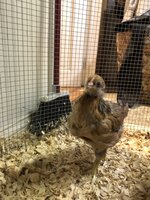 ETA: Pics of the other chicks later in thread. Looking like lots of boys but hopefully I'm wrong!?
Last edited: