Slightly nuts
Premium member
5 Years
Mar 9, 2014
16,914
68,065
1,412
@21hens-incharge

I hate people that go with the stereotypical, oh no those are bad dog breeds stay away.

they piss me off! Its like our Doberman, everyone is all dont let him be around your kids, dont leave him alone with them he might hurt them!

View attachment 2006018

He absolutely loves his girls with all his heart and will protect them at all cost! I grew up with Doberman and mine did the same for me! I am only scared of one kinda dog... the breed they use for Target.. bull terrier(?) Been attacked by a few of those -_-

I would give Sable a huge hug, of couse after asking if it was ok to pet your dog. Some people font like their animals pet by random people
Straight up hate dogs being judged by breed alone.
By bull terrier are you meaning the Spuds McKenzie kind of dog?
Sable is 1/2 pit bull terrier. Totally intense looking eyes when half lidded.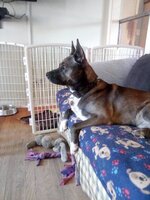 I have met some really great dobies and some not so great ones. It was the bad owners that made the not great ones that way.
I think it is part breeding (like mean roo to mean hen gives mean offspring) and part how they are handled.
I wonder who is teaching who their colors!

Good morning! It feels pretty nice outside compared to yesterday, amazing the tilt between 30 and 40.

Got everybody fed, squirrel Bob is being greedy again chasing other squirrels away.

I'll never get any grandkids if he keeps that up, unless there is monster out there to put him in his place.

You were not kidding!

Santa must think you have a jam fetish lol!

Totally with you on pumpkin butter, it just isn't right.

Good morning Bob!

Yep, I checked the forecast 20's at night nearly all week and off and on sog.

Im not looking forward to it at all but what can ya do?

People are crazy dumb with dogs Henny, im guessing you know all too well how bad it is.

Sweetest looking pup we ever had loved to bite, she never left the house due to that.

I could not watch her and people at the same time.
And THAT is why Delilah will never go in stores. She looks fluffy and sweet but is fearful....which can lead to a bad bite.
River is confident and not shy so does well.....except with noisy lumber carts. Those go by and she hides behind hubs legs. The quieter ones don't phase her a bit.