Bob's biggest Fan
Project Manager
Premium Feather Member
Aug 2, 2017
6,176
32,082
1,127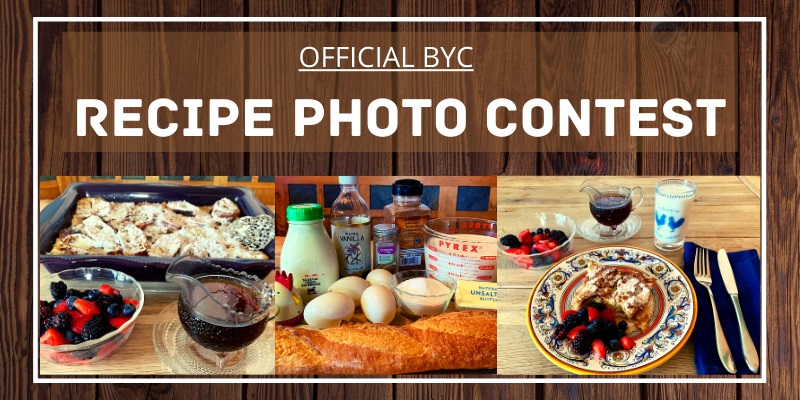 This contest is brought to you by our
BYC Sponsors
(click to view & support them)
The pictures above are by @room onthebroom from this article.
Welcome to the Official BYC Recipe Photo Contest!
​
We would like to see more of your great recipe photos in our
BYC Community Recipes
section, so we are launching a recipe photo contest for all the cooks and bakers out there! If we like yours the most, you can win a copy of
The BYC Cookbook
and a
PFM
for yourself or a friend.
Step #1
To enter, take a look list of contest recipes in the spoiler below or this
spreadsheet
, pick one that you would like to make, and reply to this thread with the recipe number.

Step #2
Prepare the recipe and get at least one good picture of the finished dish. Bonus points for getting more, but only one good picture of the final dish is required.
Step #3
Reply to this thread with your awesome pictures!
Flat Lay Photography for Beginners by BYC's @CluckNDoodle
Photography Tips from BYC's @jolenesdad

RULES:
Members may enter as many entries as they want.
One entry per post, please.
Must have at least one clear photograph of the completed dish.
Recipes and pictures *may* be used in other recipe contests.
Absolutely NO COPYRIGHTED images will be accepted! Please enter only original pictures, taken by you, or someone you know (with their permission)
ALL pictures MUST be uploaded to BYC and not hosted on other image sites, personal websites, etc.
Open to all BYC members. Staff & VPMs may enter for fun but are not eligible for prizes.
Prizes are limited to one per person per contest.
All BYC rules apply: Terms and rules
We will announce a deadline for this contest once we have at least 20 entries.
PRIZES​
| | |
| --- | --- |
| 1st place | A BYC Cookbook and a 1-year PFM ($60 value) for yourself or a friend. |
| 2nd place | A BYC Cookbook and a 6-month PFM ($35 value) for yourself or a friend. |
| 3rd place | A BYC Cookbook and a 3-month PFM ($20 value ) for yourself or a friend. |
The BYC Cookbook
The BYC Cookbook is available to winners that reside in the United States. If the winner is outside of the United States they will be awarded a PFM of equal or greater value.
​
See more
BYC Community Recipes Here
See cooking and baking threads & forums here:
Other Recipe Contests​